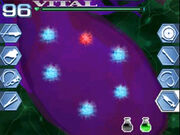 Post-Savato
is the
PGS
that affects past
Savato
hosts.
Post-Savato-tumors on the heart.
Toxicosis on the heart.
Treatment
Edit
Post-Savato-tumors
Edit
Post-Savato-tumors are different from normal tumors - first, they change colour from blue to red, and once excised, they leave a scar behind. Otherwise, they can be treated like a normal tumor - however, if any Post-Savato-tumor is touched while red, all Post-Savato-tumors will cause a gas outbreak, causing hemmorhaging and inflammations on the scars left.
Once all the Post-Savato-tumors are treated, a final one will appear, changing colours much faster than the previous tumors. This is where the Healing Touch is required to properly treat the final Post-Savato-tumor and finish the operation.
If left untreated, Post-Savato will create more Post-Savato-tumors, making Post-Savato more severe.
General Tips
Edit
Be quick when excising the Post-Savato-tumors - if one turns red before you are done cutting it, cytoplasm will spill out again, breaking your chain and forcing you to repeat the procedure from the start.
To lessen the risk of working on the Post-Savato-tumor while it turns red, suck up some of the cytoplasm, then wait for it to turn red. After it turns blue again, continue sucking it up, then quickly excise it and place it on the tray. Do this for each Post-Savato-tumor and it will lessen the risk of the gas.
Post-Savato is extremely similar, almost identical to the Vaimahse Fever encountered in New Blood.
Once the player activates the Healing Touch to treat the final Post-Savato-tumor, it will remain in effect until you finish extracting it.
Community content is available under
CC-BY-SA
unless otherwise noted.