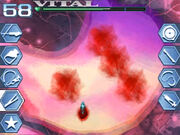 Post-Triti
is the
PGS
that infects past
Triti
victims.
Remains of Triti thorns will be buried in the stomach. The thorns must be removed by draining the pool of blood over the incision point, incising along the incision point, draining the new blood pool that forms, removing the thorn with the forceps, draining the blood pool that forms again, and then either suturing the wound or placing a synthetic membrane.
Triti thorn remains inside the stomach Triti was on.
Toxicosis on the stomach.
Hemorrhaging on the stomach.
Treatment
Edit
The treatment for Post-Triti is a simple extraction procedure, interspersed with the requirement to drain the blood pools that repeatedly form. The player has to drain a blood pool, make an incision where the blood pool originally formed, and drain more blood to get a view of the Triti thorn. After extracting the thorn with the forceps, another blood pool has to be drained (again) before the incision wound can be sealed with a synthetic membrane or through suturing.
Conditions
Edit
In the only part of the story where Post-Triti is treated, due to a lack of resources the operation would have to be performed without stabilizer and a limited supply of antibiotic gel. Should the player run out of antibiotic gel to seal incision wounds, they can also be sutured, though this would cause some damage to the patient's vitals and a breaking of the chain.
General Tips
Edit
Without stabilizer, it is vital that the operation be completed quickly due to constant vitals damage from hemorrhaging and toxicosis. It is preferable to extract one or two thorns at a time so that blood pools will not cause the membranes to fall off.
A single tap on the touch screen will disperse enough antibiotic gel to seal the wound, in order to conserve gel. Additionally, it would be a good idea to lightly sprinkle antibiotic gel to cover the entry incision line before beginning the operation.
To ensure that you have enough gel for the bandage at the end of the operation, stop applying gel once the icon for the gel turns yellow mid-operation, and suture the incision wounds instead. Of course, if you're already at the end of the operation before this happens, you are free to use up all the gel to get the vitals as high as possible.
Post-Triti is almost identical to an operation encountered in chapter 5 of New Blood. The operation in New Blood had similar conditions (no stabilizer, limited gel), but instead involved removal of shotgun pellets.
Community content is available under
CC-BY-SA
unless otherwise noted.