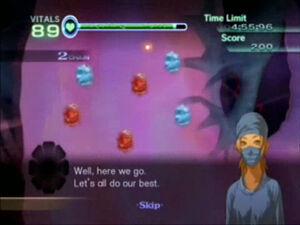 Vaimahse Fever is a disease that causes mutated tumors on organs. The origin of this disease is unknown. Maria Estrada, a doctor from the country of Culuruma, was treated for this disease in Trauma Center: New Blood.
The tumors change colour repeatedly from red to blue. They can be operated on normally if they are blue. Drain and excise them like any other tumor, but once they are removed, scar tissue will be left behind after the synthetic membrane has been applied to the area.
If any tumor is touched while it is red (even while removing it), there will be a gas outbreak. This causes inflammations and blood pools to form over either existing scar tissue or excised tumors.
Community content is available under
CC-BY-SA
unless otherwise noted.